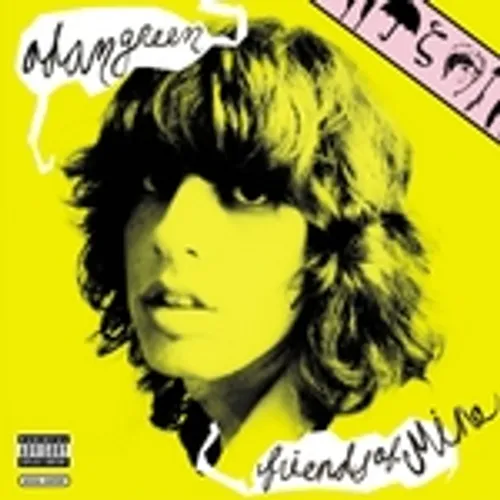 Details

Format: CD
Label: ROUGH TRADE
Catalog: 0030021
Rel. Date: 07/22/2003
UPC:

060768322325
Friends Of Mine (Ex)
Artist:
Adam Green
Format:
CD
New:
Not on Hand, Let us see if we can get it for you!
Used:
Available Used
Wish
Formats and Editions
Details:
NULL

Reviews:
Every so often an artist comes along with such a fresh, focused musical vision that he blows everyone else out of the water. That's what Adam Green does on Friends of Mine. When Green sings: "There's no wrong way to f*** a girl with no legs," it provides that same kind of shocking jolt you got the first time you heard the stripped down punk frenzy of the Ramones. Green's angelic tenor, the lilting melodies and the bright pop string section lull you into a dreamy state; then he drops the bomb. "There's something amiss, in her c**-stained lips, so I get the first kiss, before she takes the last bite..." What it means, no one knows, but snaps open your third eye like a shot of psychic adrenaline.

Green is one half of the Moldy Peaches, the stars of New York City's anti-folk movement, a duo famous for its pornographic nursery rhymes and odd stage costumes (Robin Hood, Easter Bunny, court jester.) Garfield, his first solo album, sounded like a strange marriage between Leonard Cohen and Jonathan Richman, but Friends of Mine is polished and radio friendly, until you listen to the disjointed lyrics delivered in Green's innocent, deadpan style. "Bind me, gag me, take me to the bunny ranch..." "Here's an empty kiss, marching to the rhythm of the payroll..." You could call the music anti-pop and liken Green to Donovan on belladonna, but the best thing to do is just listen-and be amazed.

back to top