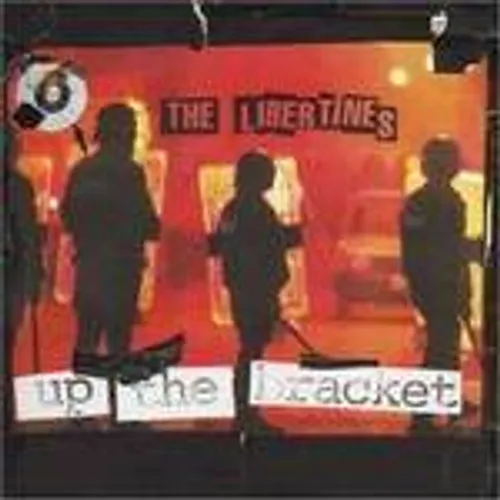 Details

Format: CD
Label: Rough Trade
Catalog: 83213
Rel. Date: 03/18/2003
UPC:

060768321328
Up the Bracket [PA]
Artist:
The Libertines
Format:
CD
New:
Not on Hand, Let us see if we can get it for you!
Used:
Available Used
Wish
Formats and Editions
Reviews:
The latest Brit press sensations are, like Elastica before them, fun, punkyplagiarists. Where Elastica stole wholesale from the Fall, Stranglers, and Wire,the Libertines (not the fantastic mid-80s Cincinnati group) are half first-album(U.K.-version) Clash, and half first-two-LPs Jam and the Chords. Like Elasticaand—more recently Interpol's steals from The Chameleons and Joy Division—thisyoung British foursome are exciting enough to give them a pass once, even iftheir lack of originality lingers in your mind. As my colleague Jeff Kelsonaptly puts it, "My head says 'no' while my feet are tapping."

Best, then, to give the tapping foot its due, and acknowledge Up the Bracket'scrackling energy, far beyond the standard boorish third-rate imitation. In fact,although it's the sound and the singing that feels rehashed, the rhythmsand songs tend more to the choppy R&B soul thrashing of the original BritMod/R&B bands. Yep, that same punkified American black 1960s soul musicthat provided the inspiration for the huge, Jam-led Mod revival a decade later.Moreover, one of the singers (of the two guitarists, Peter Doherty or Carl Barat,it isn't clear) is more a dead ringer for the young Kevin Rowland. Needa more familiar reference? Think the timbre of Paul Simonon singing "TheGuns of Brixton" mixed with Joe Strummer's general rapid-fire slurred-singing.And the guitars are furious, fast, and frenzied, as are John Hassall'sbouncy bass and Gary Powell's bopping drumming.

Again like Elastica, the Libertines may yet fade when confronted with the moredifficult trial of treading their own true niche. Or, like the Jam themselves,who were guilty on their debut LP of taking too much from the Who and Kinks,they may evolve into something truly remarkable from this start, having donemuch to bring back gutsy rock 'n' roll back in a stagnant (in Britain)bad-pop era. Time will tell. But it's hard not to find something in thiscrazy, rocking, charging-mad LP, whatever its sins.
back to top